PWDU Staff Picks, AEW Revolution
AEW Revolution is live across Australia today on fite.tv. Taking place from the Chase Center in San Francisco the event kicks off from 12pm (Sydney & Melbourne), 11:30am (Adelaide), 9am (Perth).
Pro Wrestling Downunder staff and contributors gave their picks on the tops matches on the card below..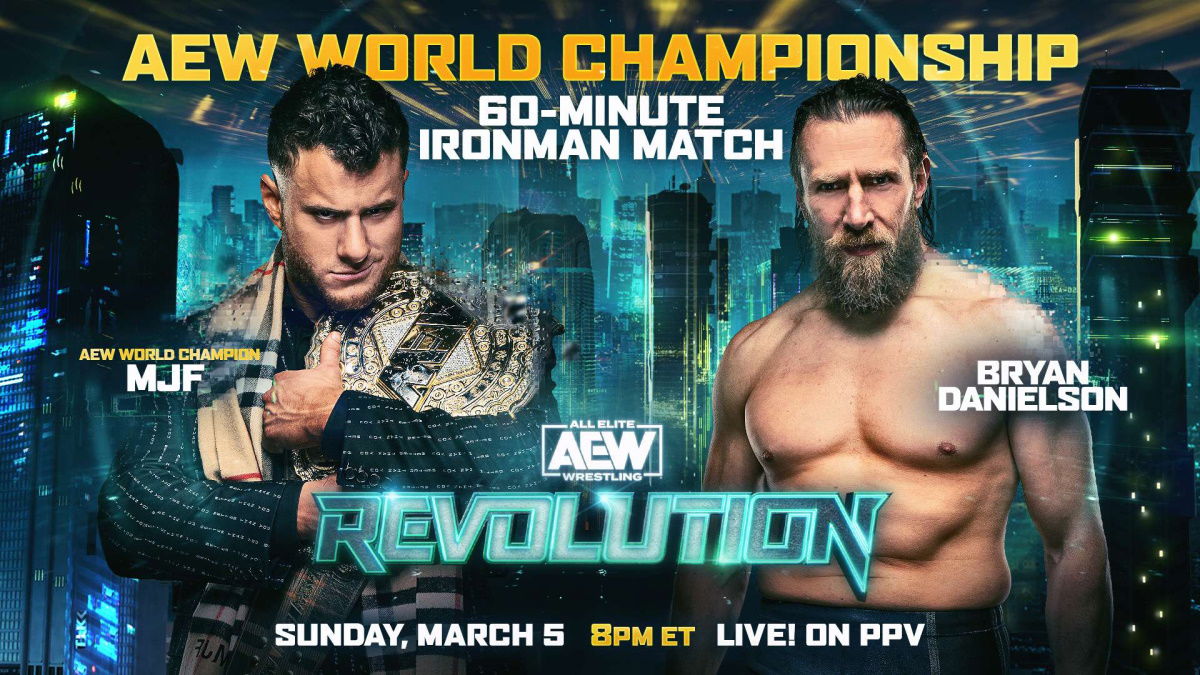 AEW World Championship 60-Minute Iron Man Match – MJF (c) v Bryan Danielson
Tristan (PWDU Podcast):
"MJF stands no fair chance of beating The American Dragon in a 60 minute Iron Man match, so my pick in the AEW World Title match is Bryan Danielson. That being said, MJF will probably just cash in the Dynamite Diamond Ring afterwards anyway."
Marek: "Some shenanigans will likey go down but MJF to retain."
Andy (Review Writer): "MJF will beat Danielson, but it'll be an incredible match. MJF will move onto Hangman, and we might finally get a storyline around the Regal-less BCC to explain what they are going forward."
Dave (Features Writer): "Danielson to be new champion – But I am expecting to see a cash in and perhaps the title going back to Danielson leading to another match."
Samuel (News Writer): "MJF retains, possibly by shenanigans. He gets a number of falls, Bryan catches up over time but gets screwed in the end."
---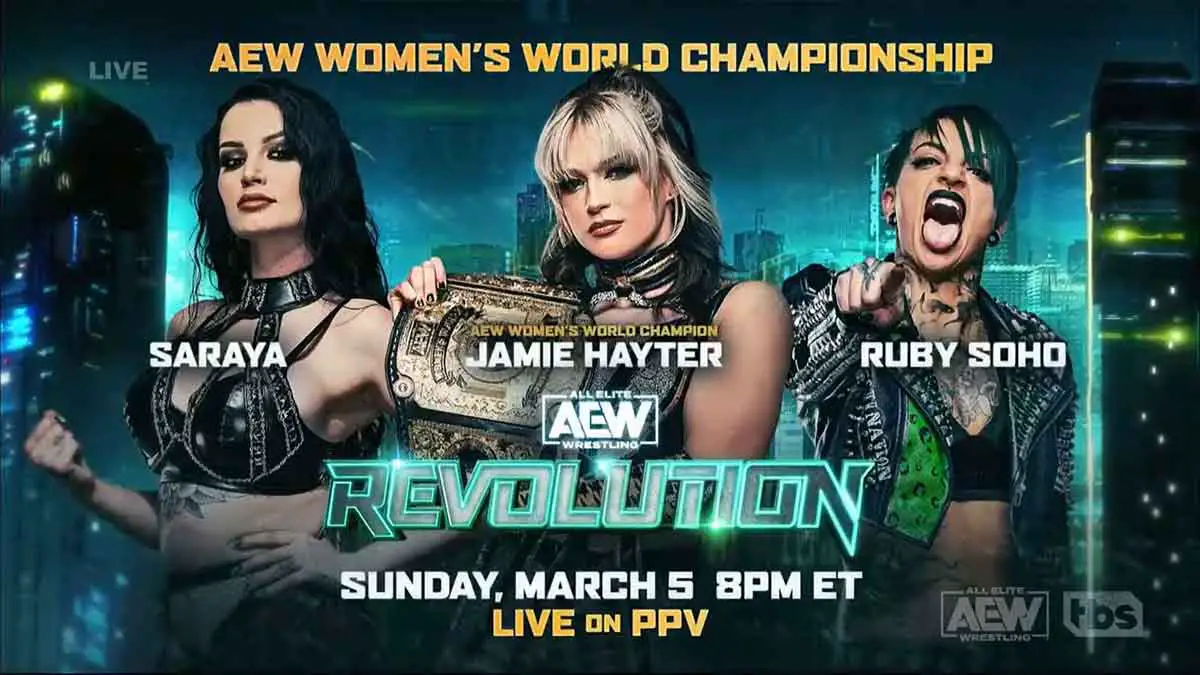 AEW Women's World Championship Three-Way – Jamie Hayter (c) v Ruby Soho v Saraya
Andy: "Saraya to win the belt via lots of shenanigans. I can see Ruby turning and joining the infiltrators as we hopefully head towards the first women's Blood & Guys match"
Sam (AEW Reviews): "Hayter is pinning Ruby Soho in the triple threat."
Dave: "Saraya – Something is telling me that this is going to be Saraya's time to shine with some outside forces helping her to the gold."
Samuel: "Jamie Hayter is good but Saraya is a star, or at least used to be, so they might put the belt on her. Ruby Soho is just there."
---
AEW World Trios Championship – The Elite (c) v The House Of Black
Dave: "The Elite – I don't think The Elite are going to lose the belts right now, maybe down the track perhaps to The House of Black, but for this PPV I think they retain should be a good match though."
Samuel: "I really don't know who's gonna win the 6-man tag match. I wanna say Elite and be done because I don't care much for this feud, but if they were gonna drop the belts and end it, now is the time."
Andy: "The Elite to beat House of Black."
Marek: "House of Black to beat The Elite for the Trios titles."
---
AEW TNT Championship – Samoa Joe (c) v Wardlow
Dave: "Wardlow – I think it's about time for Wardlow to start to get his push, before they end up losing Wardlow I think he has what it takes to be a major player for AEW, just needs some better booking coming his way."
Andy: "Joe to beat Wardlow."
Sam: "Joe retaining."
Samuel: "Wardlow over Joe to blow off the feud, unless they wanna keep it going until the next show."
---
AEW World Tag Team Championship Four-Way: The Gunns (c) vs. The Acclaimed vs. Jeff Jarrett & Jay Lethal vs. Orange Cassidy & Danhausen
Samuel: "I have a feeling Lethal and Jarrett are gonna win the Tag Belts."
Dave: "The Gunns to retain – Though I would not be surprised if either The Acclaimed, or Jarrett/Lethal get up in the match. I am more expecting a Jarret/Lethal win if it's not the Gunns."
Sam: "Acclaimed will get the titles back."
Andy: "We might get a shock with the tag titles. I'm taking the yet to qualify team."
---
Chris Jericho v Ricky Starks
Dave: "Chris Jericho – Somehow the Jericho Appreciation Society is going to get Jericho the win, but it should be a quality match and Jericho will definitely do the work to make Starks look a star too."
Marek: "Starks v Jericho will be interesting, Starks gets the pin."
Andy: "Starks to beat Jericho and extricate himself from the now-death spot Jericho feud."
Samuel: "Ideally, Starks over Jericho, but it's Jericho."
---
Texas Death Match: Jon Moxley vs. "Hangman" Adam Page
Dave: "Hangman" Adam Page – The only certain thing in this match is that Moxley is going to bleed more than Steve Corino ever did, but I'd expect an Adam Page win."
Andy: "Hangman will beat Moxley, I think Hangman is probably the next title challenger."
Sam: "Hangman winning."
Samuel: "Moxley in the Deathmatch because he has to win every weapons match apparently."