G'Day one and all and welcome to the weird and wonderful place that is my mind, my name is Wayne and you are now entering my World. All around the world professional wrestling has a long history, but of course those with the most illustrious and prolific histories being USA, Mexico, Japan and Europe.. Throughout my years of research one thing I have learned is that Australia has just as big a history as these other areas, it just isn't as well heralded as elsewhere. My goal here at PWDownUnder is to make more of the Professional Wrestling history of this great country of ours known, and it all starts here shining the light on a group of legends that deserve more recognition.
Over the last few years Australia has become a force to reckon with in the world of Professional Wrestling with the likes of Rhea Rhipley, Buddy Matthews, Toni Storm, The IIconics, Aussie Open, Emma, Bronson Reed and Robbie Eagles among others becoming household names from their work in the biggest promotions in the world. This trend though really only started happening in the last 10 years, for many years Australian wrestlers struggled to break through the International stage. For example when Vince McMahon bought the WWWF off his father in 1982, until the signing of Emma in 2011 only three Australians had earned a spot on the roster, Outback Jack, JC Ice & Nathan Jones. Therefore for 30 years we didn't have much of a spotlight for Australian wrestlers but while it took so long for our talents to be recognised Vince Sr. knew better and was not afraid to use Australian talent such as Mario Milano and Spiros Arion. Back in the companies earlier days.
There are a few wrestlers however who stand head and shoulders above all the rest, true legends that paved the way for the names I mentioned above and were a major force in the world of Tag Team wrestling. The individuals I am talking about are Al Costello and Roy Heffernan, collectively known as The Fabulous Kangaroos and this is their story.
Al Costello
While Al Costello (real name Giacomo Costa) was born in Italy on 14 December 1919, he and his family migrated to Australia when he was 6 and he thus spent most of his childhood living in the Sydney suburb of Rockdale. During school he would excel at sports, particularly Football and Track, and when he wasn't at school he would be either working at his father's fruit store or hitting the weights and working out. At 16 he would take up amateur boxing and by 18 he was considered as one of the best boxers in his area. It would be during this time that Costello would meet a man called Basher Bonas who would convince him to give wrestling a try, something that would become a lifelong passion for Costello. All of this however was against his fathers wishes for he wanted his son to become an opera singer and had enrolled him into an opera school. Costello would thus attend the opera school and would wrestle under the stage name Al Costello (a combination of Al Capone and Frank Costello) to keep the fact a secret from his father. Eventually Costello would leave the opera school but would keep his love for the music, even to the point of singing to the crowd before some of his matches.
"Well, first off, my dad wanted me to be an opera singer, so I studied voice for some time. Then I felt I needed to go to the gym to strengthen my chest, or so I thought. At the gym, I got into boxing for some unknown reason, until a fellow called Basher Bonas, who was a star at the time, he was a middleweight champion, said to me, 'What are you doing boxing?'
I said, 'Well, I like it.'
He said, 'Why don't you watch us working out and see what you can do.'
After the boxers had finished, and they put the wrestling mats down, he showed me what they were doing. Basher said, 'Why don't you have a go?'
Well, I didn't know a thing about wrestling at the time. I had no idea of balance, timing and leverage, but I stayed at it and kept training with Basher until I could actually beat all the guys in the gym. After that, I entered into a contest — the Junior heavyweight championship of Australia (amateur wrestling). I won that against George Lapstone. After that, I went into the pros and my first match was against Johnny Gilday (Alan Pinfold)."
"I struggled for three years against guys like Leo Demetral, Labriola, and George Pencheff. One day, this promoter – a fellow called Bob Marshall – came up to me and looked me over. He said, 'Nah, you're not big enough.' Leo Demetral saw all this and said, 'Come with me.'
He gave me his coat to put on and then had a word with Marshall, who said 'Okay, I'll take you up.'
I ended up going to Perth — five days and five nights on the train. I got there and wrestled Jack Higgins, who had a version of the Australian heavyweight championship. I wrestled him to a draw over eight 8-minute rounds, and at the end of the third round, people just cheered the fact I was a young guy. All this for the equivalent of $10.00 for the whole night. There was one condition. If I got over, I stayed, but if not, I'd get sent back. As it was, I got over okay."
For the first 18 years of his wrestling career Costello would have minimal success wrestling in Australia, New Zealand, Asia and Africa. He was however able to garner a few accomplishments along the way including the Malaysian Heavyweight Title (1939), The South Africa Trophy (1949, nicknamed The Singing Australian, beat Lou Newman), The British Empire Championship (year unknown), The Australian Heavyweight Title (1951) and the NWA Australasian Heavyweight title (1951, beat Ken Kenneth, left the title vacant when he left for America in 1952).
Roy Heffernan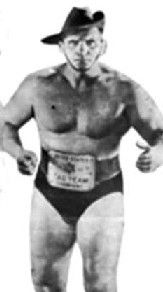 Unlike Costello, Laurence Roy Heffernan was born in Australia, more specifically in the town of Lithgow on the 12th of July 1925. In his teens Heffernan would regularly lift weights and compete in bodybuilding contests and the physique these pastimes gave him led him to being labelled as Mr Australia when he would venture into wrestling.
Another way Heffernan's life differed from Costello's at the start was their father. While Costello's was against his venturing into the fighting world, Heffernan's encouraged it and was in fact his initial trainer. His father, also named Laurence, was a bodybuilder himself and was an occasional wrestler under the name of Hugo the Strongman. With his father teaching him the tricks of the trade Heffernan made his wrestling debut in 1945 at the age of 20. Over the next 8 years he would toil away to little success in Australia but it would be during this time that he would meet Al Costello with the two training together in Sydney and also being involved in some matches together which included Heffernan challenging Costello for the Australian Championship in 1951. It would be 1953, a year after Costello had went, that Heffernan would journey to America to try to find the success he wasn't able to find in his home country.
The Fabulous Kangaroos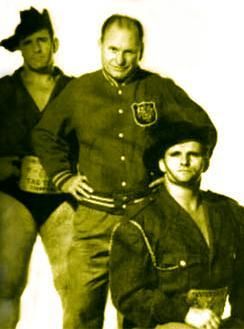 For the next few years both Costello and Heffernan would ply their trade in various promotions throughout North America, however they would not cross paths during this time. That would change however in 1956 while wrestling in Honolulu, Hawaii, Costello would mention to Joe Blanchard about how he had been nursing an idea of forming a tag team which would portray every stereotype that Americans had of Australians, he just needed to find the perfect partner. During this conversation Heffernan's name came up and because of the time they had spent together Costello said he would be perfect, yet he had no idea where he was at that time. Blanchard however knew exactly where he was, in Canada wrestling for Stu Hart's Stampede Wrestling and put him straight in touch with him.
So with the contact made "The Man of A Thousand Holds" Al Costello would join forces with Roy Heffernan to form a tag team known as The Fabulous Kangaroos. They would make their debut for Stampede Wrestling on May 3 1957 against Maurice LaPointe and Tony Baillargeon and it would only take them a few months to move up the card to face the major teams due to their natural ability and the strength of the heelish gimmick they portrayed. Their Ultra-Australian gimmick was pulled off by wearing slouch hats similar to the Australian Army wore and carrying cardboard boomerangs which they would throw into the crowd. Added to this that they would come down to the ring to Waltzing Matilda and had manager "Wild" Red Berry (an American) by their side.
After perfecting their act in Canada they would take their act on the road moving down into the US. Their ability to garner heat was a major reason why they were able to garner large crowds wherever they went, some of 10,000+ including many a sell-out. One story of this ability comes from Madison Square Garden in August 1958 where they were wrestling Antonino Rocca and Miguel Perez and got the crowd so riled up they started to throw stones and fruit into the ring. Eventually the match was called a no-contest which made the crowd even more furious which caused the promoters to turn the lights up and play the US National Anthem, a common tactic of the time to help calm the fans down if needed.
Talking about Madison Square Garden, a dream of Al Costello's was to one day wrestle inside the Garden and that dream was fulfilled when Vince McMahon Sr invited them to wrestle for Capitol Wrestling. Hours before their first MSG appearance, Costello and Heffernan put out about 10,000 flyers, one on every other seat in the arena, proclaiming the Fabulous Kangaroos' achievements and arrival.
Al Costello and I made our debut as The Fabulous Kangaroos in New York in '57. We had little boomerangs that we threw to the crowds, and we had our manager with us. We had a big banner with 'The Fabulous Kangaroos' on it, and a recording of 'Waltzing Matilda' that we'd march down to the ring to. I remember the first time carrying the banner. It was a low ceiling and the top of the banner hit it. Then our manager, Red Berry, starts to fall. Al Costello tries to catch him. And he starts to fall. So, I try to catch them both. And suddenly, all three of us fall down! And this is our grand opening. Our debut! All three of us are floundering around, our hats are all twisted, and we look just like the Three Stooges! We never lived that down. (Laughter) It was awful.
When I first met Lou Thesz, I used to call him Mr. Thesz. But, he had this thing. He didn't like guys like Gorgeous George or Baron Leone. Guys with a strut. Buddy Rogers. He didn't like all that. He just wanted to wrestle. He'd get them on the ropes and give them a slap across the face that could be heard all around the arena. That was just to say, now wrestle, don't fool around. Don't be a bloody clown. I never liked it when he slapped my face, so when I first wrestled him, I said,"Now, Mr. Thesz, there's no need to slap my face." He said, "Well, I've got some good reports about you. Have we got a match?" I said, "Alright, but just don't slap my face." Anyhow, we became good friends. I've got his boots from the last match I had with him, on Victoria Island, across from Vancouver. You get a few who do that. (shoot)
Some of these guys, they cheese you off. Dick Hutton … he was one of the greatest. He was a Big Ten champion, college champion. Even the Olympics. They wanted to make him world's champion, but they were hesitant, because if they made him champion, if they ever wanted to change it, who was going to beat him? I wrestled him somewhere, in Canberra, I think. Some woman in the front row had a cheque for $200, and she said, "Roy, you beat Hutton and I'll sign this." So, I took the cheque down to the dressing room and showed it to the guys. I showed it to Dick, too, and we were laughing amongst ourselves.
So, I'm in this match with Hutton, and I got him in a little maneuver when he was down. It was like– it's like when you're playing chess. This was check, the next move would be checkmate. But there's this little maneuver you put on — it's nothing great, but they can't go forward or backward. They can't get out of it. A wrestler would never get in that position, but I got Dick in it. I tied him up a bit, and he's on his side, and he can't go this way, can't go back there. And when he moves around, I've got hold of his tights, so I move around with him. He looks up at me like, "What's going on?" I said, "I'm going for the $200." (laughter) Hell, he couldn't get up, but he fought so hard we bounced. We bounced over to the ropes and the referee made us break. And then I was fighting for my life. (Laughter) No sense of humor …
I remember one time, we came out one night after a match through a side door which came down on to English Avenue. We tried to sneak out this side door, but there were still about 2,000 people out there, hanging around. It was one of those big metal doors. You know, with a heavy metal bar? I said to Al, "Come on. I'll peep around." Anyhow, Al's behind me, and we're peeping around, and CLUNK! The bloody door closes, and now we're locked out. All these people start to see us. I said to Al, "There a little shop, a juice bar, across the street there. Let's try and get in there. But," I said, "Don't touch anybody! Don't say anything! Don't even look at them!" So, we just tried to make it to the other side of the street. And they're kicking us in the arse, kicking our bags, pulling at our hats, grabbing the flag. We just kept going. Didn't say a word. We went into the juice bar and all these faces in the window are looking at us.
Al got eight stitches in one side of his face and six in the other side. We had a six-man tag match in Winnipeg,and what a riot we had. We gave Stan (Stasiak) a slouch hat, too. Made him an honorary member of the Kangaroos, and he carried our banner in. It was a six-man tag … and the crowd started throwing chairs. I said, "Listen, let's get under the ring, because we can't make it to the dressing rooms." They folded the chairs up and threw them at us under the ring. They threw in so many chairs that it made like a wall around us. I could see Karl Gotch's legs from under there, and he said, "Come on, get out of there!" I said,"Are you crazy? I'm staying right here." He said, "Come on, come on." He was fighting them off for us, and knocking people down. He's a rugged guy, too. Anyhow, we finally got back to the dressing room. Al got cuts on both sides of his face and Stan got six stitches. And the promoter, he says, "Fan-tas-tic!" His words exactly. He said, "Do you want to do it in Vancouver?" (laughter) I never answered him. I just looked at him, but the look was enough. He said, "No, well, I guess not." Do you know what else the crowd did? They pulled the drape off the ring and were trying to light it, to burn us out. Later, we said to Stan Stasiak, "Did you like being the third Kangaroo?" He said, "You can shove your Kangaroos. You can shove your banner. You can shove the lot. Get stuffed!" I thought he was going to hit me. (laughter)
Just two months after the MSG incident I was talking about above, the Kangaroos, while wrestling for Dory Funk's NWA Western States promotion, would win their first of many tag team championships beating Pepper Gomez and El Medico for the Texas version of the NWA World Tag Team Championships. By the end of their run together the team managed to have a total of 37 Tag Team Championship reigns throughout the US, Canada and Japan. In fact they had got so well known that they became known as "champions on arrival" for if they turned up in a promotion that had need of tag titles yet, the Kangaroos would come in as the champions of that territory. An example of this was the Florida version of the NWA US Tag Team Championships that they were awarded in 1961.
I would be remiss not to draw attention to the titles they won in the WWE, which is what prompted me to write this column in the first place. It would be on July 21, 1960 that they beat Red and Lou Bastien to win the Northeast version of the NWA US Tag Team Championships (which would later become the WWWF US Tag Team Championships when Capitol Wrestling would change into the World Wide Wrestling Federation). They would lose the titles back to the Bastiens before once again beating them to win the titles a second time. They would once again lose the titles, this time to Johnny Valentine and Buddy Rogers before winning them back for the third and last time, which also happened to be their biggest reign with the title. It would be on January 11,1962, 402 days into the reign, that they would lose the titles for the last time, this time to Johnny Valentine and Bob Ellis.
All good things have to come to an end though and eventually the Kangaroos would break up as Heffernan was getting homesick and left the US to return to Australia. Their last match together would take place in Toronto for NWA All-Star Wrestling on July 5, 1965, in a losing effort against Don Leo Jonathan and Jim Hardy.
While Costello and Heffernan were the original and most successful Fabulous Kangaroo pairing, plus the only one to consist of actual Australians, there were a few other incarnations of the group in the 50 years since their break up, the first of these being just two years after Heffernan went back to Australia.
After Heffernan left Costello would first team with Louie Tillet as The Globetrotters and then with Karl von Brauner as The Internationals. With neither of these teams lasting too long Costello decided to revive the Kangaroos and went searching for a new partner. Eventually he teamed up with Englishmen Ray St Clair, with George 'Crybaby' Cannon as their manager, and the Fabulous Kangaroos were reborn. They would only last six months together though as St Clair could not handle the rigorous schedule and eventually would return to England. Their only physical success would be winning the Detroit version of the NWA World Tag Team Championships however they proved to be just as good at receiving heat as the first incarnation was. The biggest example of this happened in Cincinnati where in front of a predominantly Afro-American crowd they spat in the face of their opponent Bobo Brazil. The crowd rushed the ring and followed the Kangaroos to the dressing room. They eventually snuck out the back and hid in a dumpster till the next morning, finding their tyres slashed when they finally got back to their car.
With St Clair back in England Costello went looking for another partner, eventually finding an American named Leo Joseph Smith Jr. Smith would take on the name Don Kent, a name he had been booked as years before, and became part of the third incarnation of the Fabulous Kangaroos (as seen in the above photo). This combination would be the most successful pairing outside the original one. Like the original pairing this version would don the "champions on arrival" tag becoming the original champions of a few different territories who needed to originate a tag team championship. One major difference with this pairing however was the travel that the pairing would do as they would not just wrestle in the US, Canada and Japan but would also include Asia and Australia in their travels. During their partnership another manager change would happen with Cannon being replaced by Sir Dudley Clements.
The Kangaroos popularity would rise to the extent that in 1971-72 they would appear in a string of celebrity Baseball games including being the stars of a game at Three Rivers Stadium Pittsburgh where Costello went 3 from 4 and Kent went 4 from 4, including a two-run homer with Costello aboard, the whole time entertaining the crowd with their antics.
Their ability to anger the fans continued however and in 1974 at the Cincinnati Gardens Costello was walking back to the dressing rooms after a match when an angered fan hit him in the hip with a 60-pound fire extinguisher he had pulled off the wall. The man would get 15 days in jail and be fined $50 for damaging the extinguisher but the damage was done with Costello needing to get a hip replacement, thus ending another version of the Kangaroos. Costello would eventually team with Tony Charles to reform the Kangaroos before once again teaming with Kent once more to tour Puerto Rico.
In 1981, 4 years after the Puerto Rico tour, the Kangaroos would once again reform, this time with Don Kent teaming with New Zealander Bruno Bekkar with Costello acting as their manager. This team did not last long as Bekkar returned home to wrestle there and in Australia so a new partner was found for Kent, a wrestler named Bob Delasero who would be given the role of playing Johnny Heffernan, Roy's cousin. This again would be a short lived teaming as Costello would retire in 1983 and Kent and Delasero would go their separate ways.
One last version of the Kangaroos, this one labelled The New Fabulous Kangaroos would surface in Motor City Wrestling once again under the managerial services of Costello. This team consisted of Mickey Doyle and Denny Kass before Doyle would get replaced by Al Snow. They would win the MCW Tag Team Championships but eventually Snow got signed by the WWF and the team was therefore disbanded.
Legacy
It used to be a common misconception that The Fabulous Kangaroos were the inventors of Tag Team wrestling. This misconception was helped that originally Tag Team wrestling was often referred to as "Australian Rules", or "Relevos Australianos" in Mexico. While they did not invent tag team wrestling what Costello and Heffernan did do was help popularise tag team wrestling. They were one of the first teams to do things like name themselves, use a gimmick, carry a foreign object with them, use heel tactics and many other little bits and pieces. In reality they were one of the first teams to add the entertainment aspect into wrestling. Without them paving the way teams like LOD, the Dudley Boyz or the Midnight Express may never have had the chance to make a name for themselves.The work these two Australians did paved the way for many years to come and gave them the blueprint of how to be a successful team. They also showed promoters how the perfect pairing of wrestlers could make them more money than they could as singles.
While not appearing in the WWE Hall of Fame as yet the original pairing of the Kangaroos have been recognised for their contribution to the sport of professional wrestling by other organisations. In 1996 they were a part of the original class in the Wrestling Observer Hall of Fame and in 2003 they were given the honour of being the first ever tag team entered into the Professional Wrestling Hall of Fame. Lastly in 2013 they were the third ever team to be inducted into the NWA Hall of Fame. Unfortunately Heffernan was not alive to receive these honours as he passed away in 1992 after suffering a heart attack and Costello only was alive for the Wrestling Observer entry as he would pass away in 2000 of pneumonia and heart problems.
So there you have, that is the story of one of the greatest tag teams to have ever graced the squared circle and quite possibly the greatest wrestlers to have ever come out of Australia. I wish I was alive at the time to have seen these guys in action but for now all I have to go on is the limited footage that still exists. So modern day Australian wrestlers take note of what has come before you, Australia has a special history within the tag division and you now take on the mantle of the guys who lead the way in the beginning. Remember The Fabulous Kangaroos and make Australia proud, light the way for the Aussies that will come after you, once again bring "Aussie Rules" back to professional wrestling. Make The Fabulous Kangaroos proud for without them there may not have been a Tag Team division for you to be part of.
https://youtu.be/tpp8ucdEpCA?si=UxMuKMHkZj1vYdwL (The Fabulous Kangaroos VS The Millers)
https://youtu.be/iHDkr6V6968?si=B2zt3DDORnPKDB8I (The Fabulous Kangaroos v Moose Cholak & The Mighty Atlas)